Lotus Elite with Royal provenance tops the charts as 87% of cars are sold
Despite the surging price of fuel and all the other upheavals caused by the ongoing war in Ukraine, bidders kept calm and carried on at Brightwells' second classic car auction of the year. By the time the dust had settled, 87% of the 106 cars on offer had successfully changed hands in a sale which came to £1.1m with bidders from as far afield as Australia, Malaysia, Germany, Spain and the Netherlands.
Top price of the day went to a lovely 1962 Lotus Elite Type 14 which had been first owned by the Crown Prince of Johore and had remained in Malaysia until 1985. Restored to factory specification in the UK in 2008, it was successfully hammered away for £58,250 and will soon be crossing the globe yet again as it returns to a new owner in Singapore where it had begun life 60 years before.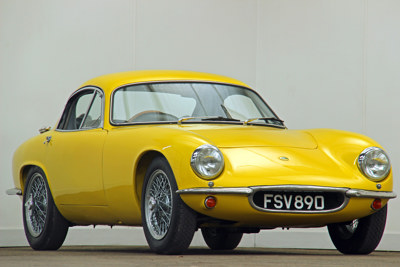 Not far behind was an imperious 1996 Bentley Azure with 77k miles on the clock. On offer from a deceased estate as a recommissioning project with a non-functioning hood, it still raised a very healthy £56,000. Also fetching the same amount was another much older convertible, a 1936 British Salmson 20/90 Drophead Coupe. One of only 12 made and memorably described by Tony Dron as "the best car you have never heard of", this rare six-cylinder tourer had been carefully restored over a 20-year period and the price realised sets a new UK auction record for this obscure marque.
Remarkably, there was also another British Salmson in the sale, a slightly more common four-cylinder 12/70 S4C Sports from 1934 which fetched £16,250 despite being in need of full restoration.
In fact, all but one of the 15 pre-war cars on offer were successfully sold, a 1934 Singer Nine Le Mans also going to Singapore for £16,800 while a 1934 Riley Nine Lynx Special went to a buyer in the Netherlands for £15,680. A 1931 Alvis 12/50 Drophead Coupe made £24,100 and will only need to move as far as Cornwall. Also staying in the UK were three Austin Sevens, a 1930 Ulster Replica fetching £20,500 while a rare 1926 Gordon England Cup made £19,050 and a delightful 1929 Chummy raised £14,900.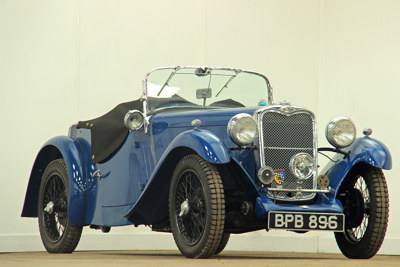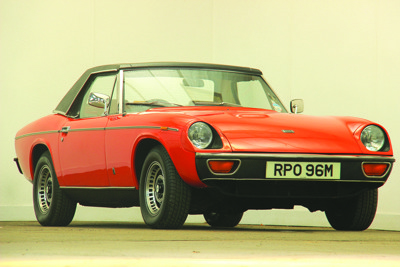 Jaguar E-Types seem to have rallied again following a brief dip in value over the last couple of years, and both the Series One 2+2 models on offer were comfortably sold, a dark blue 1968 example fetching £47,050 while a red 1966 one made £39,200. A striking 1968 Marcos GT 1600 with styling that has been compared to an 'E-Type from the dark side' shot way beyond estimate to finish on £17,500.
A 1974 Jensen-Healey with only 22k miles from new and in really super condition also did remarkably well at £14,350. A 1998 Aston Martin DB7 i6 Coupe with 41k miles had no trouble in fetching £24,100. Another car with an interesting story behind it was a 1968 Mercedes 280SE Coupe which had been first owned by Nazi rocket scientist, Wernher von Braun. Running and driving but otherwise in need of full restoration, it sold for £13,600 and will soon be joining a collection of cars with World War Two connections in the Czech Republic.
Land Rover Defenders have enjoyed a remarkable surge in interest of late, especially on the export market, so it was no real surprise that all six on offer were eagerly snapped up. Top honours went to an exceptionally smart 2015 Defender 90 XS County Station Wagon with less than 2,000 miles on the clock which made £56,000. An extremely rare 1997 Defender Wolf TUL HS, believed to be one of only 28 air droppable examples made for use by the British Army, fetched £24,300. Also unusual was a 2003 Defender 90 G4, an ultra-rugged limited edition model made to celebrate the success of the Land Rover G4 Challenge which saw 16 teams battling it out in a round-the-world expedition. Looking very mean in black with lots of rufty-tufty extras, a TD5 engine and sensible 70k mileage, it made £20,750.
The next Brightwells Classic Vehicles auction will be on 11th May with a closing date for entries of 29th April so if you are thinking of selling, please get in touch by calling 01568 611122 or by emailing [email protected].