Brightwells rounded off another busy year on 7th/8th December by selling 100 of the 138 classic vehicles on offer for a clearance rate of 73% in a sale which came to a total of £810,000.
Top price of the day went to a beautifully restored 1954 Sunbeam Alpine MkI Special, a rare ERA-tuned model and formerly part of the James Hull Collection, which made £54,650. Next best was a nicely restored ex-California 1969 Jaguar E-Type S2 Coupe, still in LHD, which was snapped up by a buyer in France for £49,250. Had it been RHD it would have fetched more as the LHD market has softened markedly since Brexit due to additional taxes incurred by Europeans buying in the UK.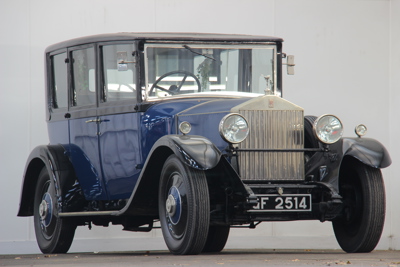 All but two of the 14 pre-war cars on offer found new homes, top price going to a 1928 Rolls-Royce 20hp Mulliner Sports Saloon with a fabric covered body, a beautifully preserved interior and an interesting roster of former owners which made £34,130. In similar vein, a nicely restored 1929 Rolls-Royce 20/25 with elegant Barker Limousine coachwork made £26,620.
An extremely rare 1923 Crossley 19.6hp Two-Seater plus Dickey, believed to be one of only two of its type in the UK, looked good value at £19,040, as did a 1935 Lancia Augusta at £12,880. A pair of 1937 Riley 12/4 models were also sold, a Lynx tourer making £22,400 while a Falcon saloon made £13,440, both cars having been expensively restored a dozen years ago - the former having been laid up for some years and needing recommissioning.
Top price among the more modern classics was a 2014 Audi (B8) RS4 Avant with only 18k miles on the clock which made £31,100. A noteworthy result was achieved by a highly original and unmodified 2000 Subaru Impreza STi Version 6 which comfortably beat its estimate to finish on £14,670. This was around twice what it would have made five years ago, further proof of how sought after JDM classics have become in recent times. It will be interesting to see if it doubles in value again over the next five years. A 2001 Aston Martin DB7 Vantage V12 with 90k miles on the clock looked something of a bargain by comparison at £12,320.
Also worthy of mention was a beautifully presented 1953 Austin Champ with only 13k miles on the clock which flew well beyond its estimate to finish on £17,020, certainly a house record for Brightwells and more than likely a UK auction record for this Rolls-Royce powered military 4x4. A 1974 MGB GT with a 4.6 V8 race engine also looked like a lot of fun for £15,960.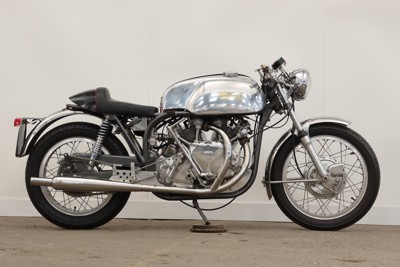 Ten of the 15 motorcycles on offer were successfully hammered away, top price going to a 1952 Norvin with a Vincent engine and Norton Featherbed frame which made £22,000. A very original 1960 BMW R50 with Steib sidecar made £9,320 while a nicely restored 1951 Ariel Square Four Mk1 fetched £8,800.
Special mention should also go to a 1:4 scale model of the 2003 Le Mans-winning Bentley Speed 8, one of only 10 made and complete with a Perspex display case and bespoke travel trunk, which smashed its £2k - £3k estimate to finish on £11,300.  
The next Brightwells Classic Vehicles auction will be on 15th February 2023 with a closing date for entries of 3rd February so if you are thinking of selling, please get in touch by calling 01568 611122 or by emailing [email protected]. We wish you all a very merry Christmas in the meantime and a happy and prosperous New Year.